Communicating your ideas on paper
We offer various levels of service to suit your budget. Some levels have no minimum quantity, so small runs are possible.
We can print high quality
Stationery - business cards, letterheads, compliment slips
Invitations
Leaflets
Posters
Brochures
Books
CVs
Reports
Presentation materials
...and more, just contact us to discuss
Getting your ideas out there is what it is all about, but how good your printed materials look will seriously impact how well your ideas are received. Even our lowest cost stationery is printed on high quality media, chosen specifically for its purpose. Our colour prices are for full colour, providing you with a much wider range of colours than is usually available in a basic price. Enabling you to respond to key marketing facts such as customers are 80% more likely to buy a product promoted in full colour!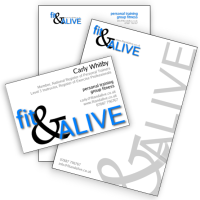 Letterhead, poster/leaflet and business card pack for fitandalive.co.uk
First impressions count. In this current market, it is even more important to get noticed, so consider getting your CV professionally printed - it could make all the difference. Make full use of your business cards by putting directions or product details on the reverse of the card. Leaflets are printed on art coated paper and invitations on art board, bringing your colours to life. Invitations and books can be printed on small runs. So whether your printing is for business or social purposes, you can can make an impact.
If you want more help with the design and layout we can do this too, again offering various levels dependent upon whether you want to use stock images or have something designed just for you.
And our Support services are there to help with getting materials together and then distribution and delivery.