Good for your visitors, good for your business
They were there at the start of my business - designing the web site, advising on options for its name and giving focus to the content within it. I wouldn't have known where to start! 5 years later they are still providing me with support and gentle nudges for updates that I would probably forget to do but fortunately for me they don't!
Michelle Jackson, Imajinative Marketing, Chippenham, Wiltshire
You may already have a web site that is not doing as well as you hoped, you just feel it is time to expand, start selling online or you want to set-up a first site. Whatever your situation, whatever your budget and timescale, we can help. If you are on a tight budget, we offer a number of fixed price solutions, based on short discussions with you, design-patterns, which you can customise and a set number of pages, images and rich media files. Alternatively, we can work with you to fully understand your ideas, products, markets and business, via a series of workshops.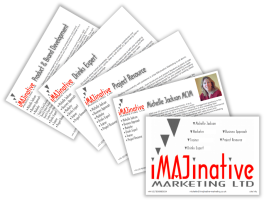 Website design for iMAJinative Marketing meeting the brief of a clean, clear business-like image.
If you are setting up from scratch you may not have a domain. As a Tucows reseller and either by using the information from the workshops or via a short conversation, we can help you select and register a domain name. We cover all aspects of domain management so can advise you on domain rights protection, handle transfer & renewal and host your domain.
We can also host and maintain web sites & email. If you already have a site and you want us to take on hosting, maintenance and/or further development (eg adding a shop), the first requirement is to perform a Health Check. We will review how well the site is currently performing, how it is structured and the technologies used. This Health Check will enable us to advise you on any issues and various options for on-going hosting and maintenance. This in turn, should help you to make a more informed decision about exactly what you want to do.
We offer various site & email hosting and maintenance options dependent upon your needs. You may have an information only site which is small, requires very few updates & little maintenance. On the other hand, the site may be more dynamic, requiring higher levels of downloadable content or a shop requiring regular updates. We can tailor a package to exactly meet your needs, ensuring you have the disk space, data transfer allowance, number of updates and response times you require. We can even provide telephone support with real people - our Business Pixies - to guide you through.
Alternatively, we can supply a Content Management Systems (CMS), so you can maintain the site yourself. While if budgets are tight, our fixed price solutions include hosting and essential maintenance in the price. And when you need more, we offer a smooth upgrade path.
You may not have a logo, image or branding, or perhaps you have decided that this needs changing to improve the look, or updating to reflect new ideas and/or products. Our experienced designers will use your information about your ideas, products and/or business to create you a new look. If you have an existing site we can advise you on how this work will affect it and the associated costs.
We can also work with you to find a different and exciting way to present your ideas, products and/or business dependent upon their market. This information will influence the layout design, presentation and menuing, providing clarity and ease of use for the web site.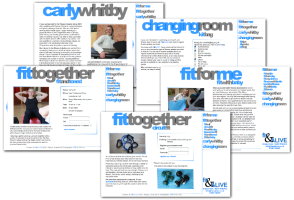 Web site for fitandalive.co.uk with class booking and user preferences
Web users like to be able to find any factual information quickly and easily, but for visits to be converted into sales, potential customers need to be encouraged to stay and browse. Mary Portas, famous for her stunning window displays at Harvey Nichols, aptly describes this as "Being & Buying"
To provide your visitors with an exceptional experience, we ensure the quality of presentation is very high and that your information is organised as your visitors would expect, so they can search the site in an interesting and simple manner.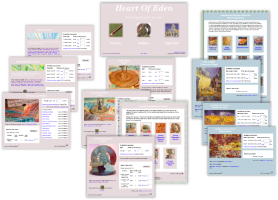 Online shop for Heart of Eden. Imaginative product presentation and strong use of product categorisation to guide the shopper.
The more you are involved in producing the content for the site, the better chance you have of getting your ideas heard - because they are your ideas. Where we help you define your Blueprint and Develop your ideas, we will guide you to produce the content yourself. For fixed price solutions, we ask you to have your content all ready to go, but if it isn't, for an additional cost, we can again guide you to produce your own content. If it simply isn't feasible for you to produce the content yourself we can still help. We can write the textual content from rough text you provide, based on existing text-based documents such as catalogues, brochures, reports, books etc, or from audio recordings of conversations, meetings or workshops.
We can process digital images ready for presentation on a web site, cropping for effect, resizing, applying digital treatments or creating line art from photographs and drawings. We can edit and/or re-encode videos into formats suitable for streaming and downloading online. We can create Flash movie files from scratch incorporating other digital media such as images and audio.
You may already have product information, for example a catalogue, but this might not be appropriate for a web site. By reviewing your information and advising on any edits, we can enable you to, or we can produce the right type of content to sell your products online.
Shoppers need to feel secure when paying online. The first step towards this is to ensure that purchasing online is easy and that secondly they feel their payment is secure. If you already have a shop, you may be able to use your exisitng merchant account, or we can offer guidance on how to set-up a new account. To give you and your customers confidence and you a very competitive price we work with a major player in secure online credit and debit card processing - WorldPay.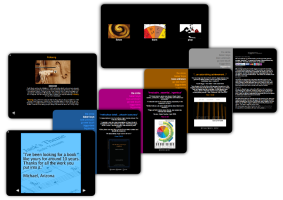 Website for music business with streaming audio and online selling
It is crucial to the benefit of having a web site that your investors, customers and potential customers can find you. We design in features that enable the site to be found and also advise you on other supporting marketing strategies to aid visibility. We can also use Search Engine Optimisation (SEO) techniques to enhance the visibility of the web site.
We have a long history of working with customers from all business areas. Our experience has been captured in a set of well tested building blocks which can be combined in whatever way you require to provide you with a web site. We take great care to understand your specific requirements, select the appropriate building blocks and combine them in the best way to suit your needs. The result is fast delivery of reliable software, providing a web site with a wide and up-to-the-minute range of features. Because it is tailored to you, you only pay for what you need - you will be surprised how little it will cost and how soon you will see a return on your investment. Building the site from reusable software building blocks not only results in fast delivery it also reduces cost.
We have components for the novel presentation of rich media in ways that give a high quality result. We have gallery/lightbox components for presenting collections of images/photographs and allow easy selection of images. We have audio player components for including music or the spoken word and video players for inlcuding rich audio/visual content in the web site and of course can include technologies such as Flash. All rich media is embedded using the latest technology and standards available (including HTML video standards). We can also prepare rich media content for online delivery for example encoding and embedding video so that your valuable content can be viewed in any browser on any platform including the iPhone and Android.
Our development process also means that any web sites we build are flexible and easy to change, which gives us the ability to update the web site frequently and quickly. This is particularly useful if the content of the web site is constantly changing, e.g. blogs, events, gigs, classes, cars and also encourages customers to return regularly to the site, e.g. if you offer monthly tips, recipes etc.
Once the web site is live, a leafleting campaign will help kick-start your early visitor numbers and we can layout and print your stationery using the same new look as the web site. One factor that is crucial in building visitor numbers is to ensure the site is kept up-to-date. This means maintaining the site from day one.
Although a Content Management System (CMS) can seem like the cheapest and most flexible way to maintain a site, we believe if you have invested in Bizelix's analysis, design & development skills, you want to continue to benefit from the expertise when you need to update the site. Updates are not just about adding & replacing information, for maximum impact it also matters where and how they are placed. If you have used one of our fixed price solutions, these include our expertise in blueprints, design-patterns and essential maintenance. Or, if you have put time & effort into defining your Blueprint with us, use it, don't lose it!
Bizelix's development processes and personnel skills also mean that any changes are rapid, which enables us to keep the costs competitive with CMS, leaving you free to do what you are good at, not maintain a web site! Having said that, if you are an experienced web user and it is important for you to be able to maintain the site yourself, we can supply a flexible and easy to use CMS, providing you with the ability to manage, modify and add content.
...and in contrast, if you are completely new to the net, need help with the updates or are unable to get your information to us electronically this can all be handled economically by our Business Pixies - simply contact us to discuss.
We were kept informed and involved throughout the whole process and are thrilled with the high quality of the package they put together for us. Furthermore, we have had no problems in the day-to-day running and implementing of the software into our business practices. Any questions, assistance or support we have needed have been answered immediately and clearly.
Shop Owner, Bath